Cinema Fan? Marvel Freak? Watch English versions in RENOIR Cinema Madrid
Cinema Fan? But You do not know Spanish and you are a Marvel freak and want to watch the new Thor in the cinema? YES, YOU CAN! In Madrid are few cinemas with the original version! So You can watch movies in English with Spanish subtitles! You were waiting for the new THOR and now you live in Spain but you do not speak Spanish yet? Do not worry, you can see Thor and other English movies in the original version. Below we will explain to you where and for how much you can do it!
Cine RENOIR is giving an opportunity for all English speakers to see movies with the original version.
Let's focus on Marvel freaks because that is a big group of people! And for sure you know somebody who is a freak or just a fan of Marvel. Maybe that is you? New Thor just appears in the cinemas so you cannot miss it! Just go to Cine Renoir  – Cine Princesa near to Plaza Espana and enjoy 2 hours of having fun! Do not worry I will not spoil you! No spoilers below, just promos and options of your new Thor experience!
How much is the ticket? Can I buy it online?
The ticket is 9.20 but you will get a promo extra cupon named "Came back to the cinema!" so next time you can go to the same cinema just for 6euros! Yes you can buy it online here – https://www.cinesrenoir.com/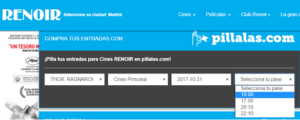 How frequently is the movie showed?
If we are talking about THOR is showed 4 times per day. But all the movies are showed a few times per day so you can choose the hour that is the most convenient for you.
What about Pop-corn? How much is it?
Popcorn with 2 drinks is from 6,10 to 9,20! Of course, I recommend taking the biggest popcorn and enjoy it with our friend longer :D, but if you are just by yourself you probably should take a small one ;).
Enjoy your movie and see you at the Renoir Cinema :)!