Is it worth to see the Museum of History of Madrid
First of all… Of course, it's worth it… it is located in the Malasana neighborhood so if you will not like it you can always go for a small beer or vermouth :P! But enough jokes!
Positive sights of the Museum of History of Madrid are:
FREE entrance
diverse exposition (paintings, maps, clothes, tableware, and more…)
patio
cultural events
located in the great neighborhood Malasana!
it's not crowded
impressive entrance and modern interior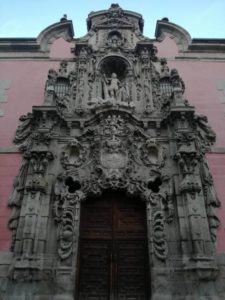 Museum of History of Madrid it is not just a museum for paintings! It has old maps, clothes from another century, but also royal tableware and old 3D city models!
It is a nice place to visit on your free day also You have to check their ongoing outside cultural events!
Is it boring?
What do you mean? If you are not a fan of paintings you can find their various expositions. Each floor has a few different expos. You can see there different painting styles and different artists. Obviously, all items in this museum are strictly connected with Madrid. All the items are from Madrid and about Madrid and were belongings of Madrilenos – Madrid citizens or even Royal Family!
If You are interested more about events than museums you need to check their events here – www.madrid.es/museodehistoria  They organize concerts, events for women and families, and much more!
If You are still wondering if you should go there check the Fotos ;)!
See you in Malasana!