Why Should You visit Lavapies? Below You will find many reasons!
Lavapies is located in the center of Madrid. It represents the fusion of people and culture from Asia, Africa, and Europe… You can find there Marrocan, Indian and Senegal restaurants. Streets are full of life and many small bars and shops. It is a perfect place for tapas and beer during the weekend and it's always crowded.
Delicious food
This neighborhood is giving you unique opportunity to taste cuisine from all over the world. You can find there Senegal, Indian, Pakistan, Morrocan, Ethiopian and many different bars…
Many of African restaurants serve amazing Baobab drink which has a special taste… Arabic cuisine will surprise you with each dish. Also, remember about tapas bars if you need just a small snack!😉
Festivals and Fiestas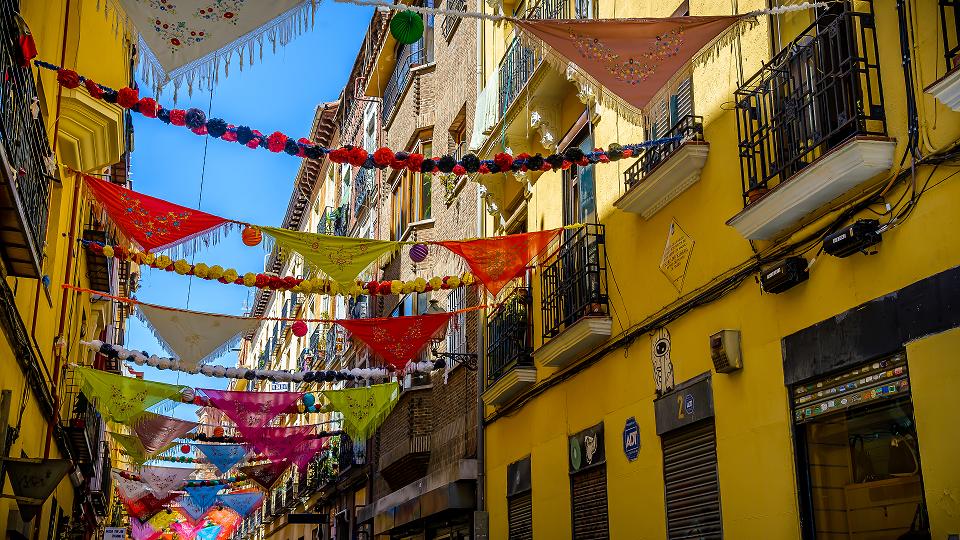 Lavapies has own Tapas festival named Tapapies and it offers you special promotions and a big choice of Tapas! Just 'get lost' around Calle Argumosa and enjoy diverse Spanish appetizers with a glass of wine or beer. You have to know that Tapapiés is attended by many locals and tourist so don't be surprised if all the tables will be taken!
Plazas de Lavapies
Squares located there are meeting points for all local residents but also young people who want to enjoy the evening by talking and playing music all night long and drink some booze. It's a perfect place if you wanna hear some guitar players or singers!
Calle Argumosa
Argumosa street its main bar street. Beer, wine, olives, tapas and all the Spanish atmosphere guaranteed plus multicultural surrounds… Just take a seat in one bar and continue in the second, made some new friends, speak English, Spanish and enjoy Madrid diversity!
El Rastro
Madrid's most famous flea market. It takes place every Sunday and public holidays in Lavapies street named Ribera de Curtidores.
You can find there almost everything! Starting from earrings and finishing on blankets and sunglasses, cutlery, furniture. If You are looking for a gift or simply need to furnish the flat it's the place for You. Its cheap, diversity of choice and You can hear there alive music played by Spanish bands! It's one of the locals favorite place in Madrid.
Cultural Centres
Centres, Theatres and language schools… Lavapies is full of them.
La Tabacalera is a place where You can enjoy concerts, parties, workshops or visit just to see it and feel the tobacco vibes… It's spectacular building with independent radio, art school and graffiti all over the walls. Just stop by to feel it on your own skin.
If You are interested in Theatre check Teatro Valle Inclan, Teatro del Barrio. If you want to join some workshops check La Casa Encendida.
Lavapies is an amazing place that has the unrepeatable atmosphere so don't hesitate and let yourself get lost there!