Madrid Snow Zone & Ice Place Madrid
1.Snowzone in Madrid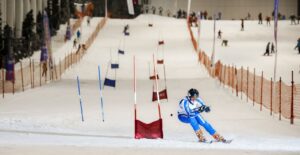 The unique indoors snow track in Spain offers the opportunity to the sky and snowboarding 365 days a year. It is a snow park where you can jump and learn tricks. Its setting will change in order to offer you different alternatives: transitions, rails, boxes, etc.
It is located in the shopping and leisure centre Intu Xanadú, in Arroyomolinos, just over 20 minutes from Madrid, this ski resort is one of the largest indoor slopes in the world, and the only one in Spain. It offers its visitors 18,000 square metres dedicated to the world of snow, both for expert skiers and for those who want to get started in this sport.
Madrid SnowZone has the main slope with a length of 250 metres, 55 metres wide and a gradient of more than 25%, and another less steep slope 100 metres long and 40 metres wide, perfect for beginners in skiing. Among its complementary leisure proposals are tobogganing and snow bikes. Its features, It is a good idea for those who are still learning.
The environment, perfectly controlled, makes the snow to remain always under the best conditions. It is a perfect place to have fun and enjoy the leisure time.
Address:
Madrid Snow Zone
Carretera A-5 exits 22 y 25
C.C. Madrid Xanadú
28939 – Arroyomolinos, Madrid
Bus
528, 534, 539
Cercanías (local train)
Mon-Sun: 10am-midnight
2. Ice Palace Madrid – Sport hielo
Since 2003, this facility has offered courses in ice-skating, hockey and curling during the week, while becoming a place for family fun during the weekends. It also offers the possibility of celebrating birthdays for young children with a picnic and snack bar area, and the whole of the frozen surface reserved for skating and having fun.
An enjoyable day with friends or classmates allowing your creativity to flow to the rhythm of the music or learning to balance yourself on the thin blades of ice skates. The Dreams Palacio de Hielo Ice Rink has an Olympic-size rink that measures 98 x 197ft. to practice skating, which combines physical strength with artistic expression–an opportunity to spend a fun afternoon.
Address:
Callede Silvano, 7728043
Tourist area
Metro: Canillas (L4)
Bus: 112, 120, 122, 153
Cercanías (local train)
More information:
http://www.sporthielo.com