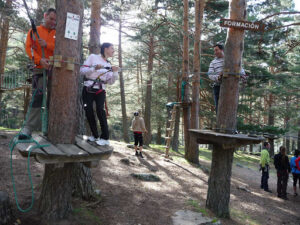 De Pino a Pino is a forest adventure park with seven circuits suitable for all levels, with giant zip lines, suspension bridges, nets, creepers, and an extreme circuit, the only one of its kind in Spain. Only 40 minutes drive from Madrid.
Address: Carreterade la Barranca, s/n28491Navacerrada
Bus: 690, 691
Metro: Cercanías (local train)
Forestal Park is the most imaginative and original adventure park in the Community of Madrid. Fun, healthy exercise, and sport for the whole family, a totally original concept set in a natural recreation area. only 20 minutes away from the capital on the A-6 motorway.
With 92 attractions set in the treetops and 27 zip lines, Forestal Park is a completely safe experience, giving everyone who tries the activities a day full of excitement and fun as they travel around treetop circuits of varying levels of difficulty.
Address:Area Recreativa Embalse de las Encinillas I, San Macario, 6428440Guadarrama
Bus: 682
Metro: Cercanías (local train)
3. Aventura Amazonia Pelayos
The Aventura Amazonia Park is set in a beautiful conifer forest in Sierra Oeste, Madrid, next to the reservoir of San Juan. Open since 2009, the park offers outdoor activities that kids and teens will enjoy to the full.
The park has 99 games in the trees and 25 zip lines for adults and children, divided into 6 circuits with different adventures: MiniKids (for children from 4 to 7 years, which also works as a daycare service), Kids, Explorer, Jungle, Adventure and Sport, another 3 initiations and a super zip line of 255 meters, the longest in Spain among trees. Safety is guaranteed thanks to the innovative system of intelligent carabiners.
Address: Caminode la Enfermería s/n28696Pelayos de la Presa
Metro: Cercanías (local train)
Bus: 551
4. Aventura Amazonia Cercedilla
Aventura Amazonia Cercedilla is the largest treetop adventure park in Spain and one of the largest of its kind in Europe. Zipline circuit in Madrid with more than 470 meters, Deportivo and X-Trem; 4 of Initiation; and an area only for companies with more than 30 Team Building dynamics. With a total of 114 games and 33 zip lines, the park is located in the Berceas Recreational Area, in the Cercedilla Meadows, next to spectacular natural pools that complete the leisure offer of the enclosure in the summer months.
Address: Carreterade las Dehesas, M-966, Km 3,928470 Cercedilla
Metro: Cercanías (local train)
Bus: 684
5. Autocine Madrid Race
This drive-in cinema is located in the Fuencarral-El Pardo district, very close to the Paseo de la Castellana, and it boasts 350 parking spaces, making it the largest in Europe.
This is a complete experience for all ages, in which films, food, music, and of course, cars come together in an unbeatable atmosphere. The billboard includes new releases as well as classics from the history of film, as well as the screening of mythical concerts by the best bands of all time. The Auto cine has an In-Vehicle Food Service as well as a food zone consisting of a true American-style diner and several food trucks selling baguette and sliced bread sandwiches, hotdogs, salads, pizzas, and assorted snacks.
Address: Calle de la Isla de Java, 228034
Metro: Cercanías (local train)
Bus: 66, 124, 137, N24
6. Circuito del Jarama
Jarama was the first permanent race circuit built in Spain. Jarama offers a wide range of possibilities in terms of organizing events, thanks to the multi-faceted nature of its facilities, which also include an assembly hall, classrooms, a room with simulators, VIP areas, a restaurant, and special training tracks, among others. As well as motor racing, As well as motor racing.
Address: Carretera A-1, km 2828700 San Sebastián de los Reyes
Bus: 171, 193, 195
7. RACE sports complex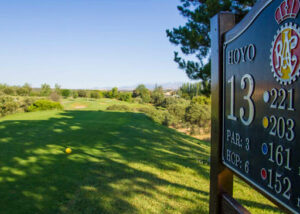 The RACE sports club is situated on the outskirts of Madrid, on the Burgos road. It was opened in 1967.
The club offers owner-members other types of sports and leisure activities but golf is by far the most popular form of exercise here. It boasts an 18-hole course, which stages social tournaments at the weekends and another 9-hole course, where golfers practice among watercourses, bunkers, and a lake, which make the game a little more challenging.
Address: Avenida de Guadalix, s/n. Carretera A-1 Km 28,10028707 San Sebastián de los Reyes
Cercanías (local train): Alcobendas/San Sebastián de los Reyes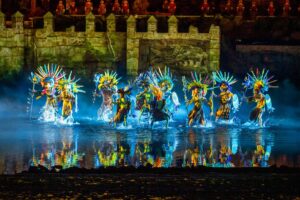 Puy du Fou is a new generation of the theme park that represents History through spectacular and very moving shows, garnering numerous awards in Europe and the United States. In August 2019, Puy du Fou opens its doors in Toledo to take you on a spectacular journey through the history of Spain. Created in France,
The Toledo Dream, spectators have been able to enjoy a historic journey taking them from the reign of King Recaredo I in the 6th century to the arrival of the railway, as well as the Navas de Tolosa battle or the discovery of America. 1500 years of history represented by 185 actors and some incredible special effects.
Puy du Fou España will have four daytime shows, three-period towns, artisan workshops, more than 300 animals, and more than 30 hectares of nature, as well as several restaurant areas. The shows will have simultaneous translations in English and French through a free smartphone app for the park. The entire complex will offer free Wi-Fi.
Address: CarreteraCM 40, Toledo 45004