Teleferico Madrid
Are You afraid of heights? Think twice before going there! Do You want to see Casa de Campo from the air and the best view of Madrid's skyscrapers? That's the thing for You! Are You wondering what we want to present to You? Cable Cars with amazing views! Take your friends and get into it! That's only a few minutes but You can do it twice and book Round Trip!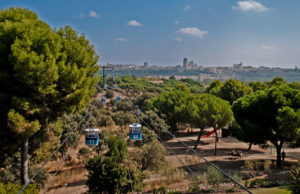 Prices are not high! One way ticket costs 4,20eur and Round Trip Ticket 5,90eur.
Imagine the best panoramic views of Madrid from a 'bird's eye view'! The journey starts on the Paseo del Pintor Rosales street, near the Argüelles Metro station, and takes you over the River Manzanares and into the Casa de Campo park. The cable car carries you above the city's parks and the Manzanares River in the distance, as a recorded commentary describes what you are looking at.
You'll be seeing attractions such as the Plaza de España and the Egyptian temple of Debod from a completely different perspective, as well as taking photos from several other angles.
Many of the city's famous sights may be seen, such as the Parque del Oeste Park with La Rosaleda (a very beautiful rose garden where annually in May a rose festival is held), the Principe Pio Metro Station, the Torrespaña communication tower, the Royal Palace, Almudena Cathedral and the Chapel of San Antonio de la Florida (with its grand pictorial decoration painted by Francisco de Goya).  If you see, on the other hand, you will see the part of modern Madrid with the famous 4 Towers buildings.
The cabins reach a maximum height of 40 meters above the ground, and the entire 2.5-kilometer ride takes just over ten minutes from its starting point at the Paseo Rosales all the way to the Casa de Campo Park. At the end of the journey, there is a restaurant and bar complex with even more views or maybe the best panoramic views of Madrid.
https://teleferico.emtmadrid.es
See You Soon!