The best costume ideas for Halloween!
Halloween is coming and you still have no idea what costume to choose? Or worse You have no idea where to buy it? This post will help you find ideas for your special look! Also, you can find some special Halloween events below !!!
What? Where? How?
Get your costume from 'Party Fiesta' or 'Tiger' shop or prepare it by yourself at home (addresses below)
Prepare your face – makeup is really important on Halloween, not only for girls, guys could do some scars on their face too!
Check the Halloween Costume Party, 30 and 31 of November are specially Celebrated in Star Coyote! ;)!
Have Fun! More than ever! And get crazy and win the Costume Contest!
How to prepare the best makeup for Halloween? You want to look creepy or sexy? You can see many tutorials on YouTube on how to do some 'creepy' make up.
Don't forget that You DON'T have to look SCARY or CREEPY, you can also have just normal makeup with the costume of Spider-Man or be a Pin-Up girl or get some of Lady Gaga stylization… If You wanna get some Witch look you can get some makeup in a shop named PartyFiesta – http://www.partyfiesta.com/es/halloween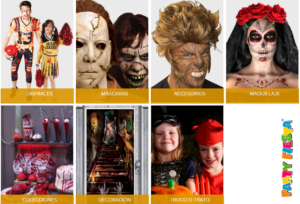 In the link, you can find all Halloween costumes, gadgets, and makeup that You need.  This shop is not only online You can find them on Fuencarral Street ;)!
How to find the shop?  The address is C/ Fuencarral, 133 You will find it easily because you will get scared by Halloween gadgets :D! You can get there by line 1 by getting off on Bilbao metro station and stepping by first to TIGER shop there! and then you have only 5 minutes walking to Party Fiesta Shop!
When You should start preparing?
As soon as possible, I would start now because only one week left and it is the perfect time to collect all the gadgets, makeup, and costume parts! So don't wait too long because a better look you'd got the better impression you'll make on your friends and you could WIN a TRIP to ANDALUCIA!!! Or at least some free drinks which is also really important!
Be creative! Let yourself get crazy! That's time for it!
Enjoy Halloween!
See You on Costume Party or Halloween Pub Crawl!!