Where can I find the best Churros?
Best what? CHURROS! The Spanish sweet sticks! And Porras similar but bigger and more fluffy!!! So let's explain what exactly are churros and Porras! Churro is a kind of cake-crispy-stick. It's fried in deep oil, that's why it is so crispy. The best way to taste it is by putting it into chocolate! Mmm… Also they' are served with sugar. Churros by itself are not really sweet. To make it sweet you need to dip it in hot chocolate…
 Best Churros
The most known place to eat Churros in Madrid is obviously San Gines! It's the oldest chocolateria in the whole city. San Gines is located in the heart of the center, just a few minutes walking from Sol Square. San Gines
Get in there and see the photos of all the famous people who have been there! Everyone wants to taste churros so you need to be prepared for a long line… Of course, depends on your arrival time. Don't worry there are two chocolatiers in the same place, so, on the other hand, you can avoid the queue! Also, You can enjoy your 'sweet moment' on the lovely terrace.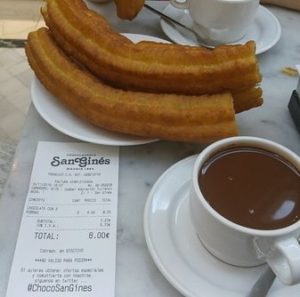 Have I told You about Porras? That's even better than churros! Porras are a lot bigger and could be stuffed with white chocolate or caramel or 'dulce de leche' which is special sweet milk, the taste is similar to caramel, or of course dark chocolate. The difference is size and texture, it's more 'fluffy' and I personally like it a lot more than Churros!
Taste both of them to feel the difference.
See You at San Gines!