Why You have to try 100 Montaditos
Have you ever seen 100 Montaditos bar? Yes? You have never been there? Now you will get many reasons to go there!
100 Montaditos – bar or restaurant? What do I need to know before going there?
100 Montaditos is Cerveceria- (Cerveza – beer) which means it is the perfect place to enjoy it! Maybe You will be surprised but you need to write down your order by yourself! Each table has it's own stander with a Menu and a special notebook where you have to write down numbers and amount of dishes and drinks you want! That is really entertaining by the way :D! You will see ;)!
100 Montaditos are a special place! That is a perfect place if you want to go out for tinto de verano or a beer with some cheap tapas or small sandwiches! You do not need to look for it long, you can find it in every corner.
100 Montaditos are fast, cheap, crowded, and just good. Of course, it is not the best restaurant in Madrid! What you need to know it is a nice place if you want to hang out with a friend or group of friends if you are looking for a place you can eat and drink just cheap and fill your stomach fully!
What do you need to order there?
to drink: Tinto de Verano! or beer (Cerveza!)
to eat olives, sandwiches, potatoes, chips, tortilla de patata…
sin gluten: beer, some sandwiches
Vege: some dishes are without meat and you can find it by special green leave logo
vegan: it is not easy, ask for it there, but for sure you have to try tinto de verano and olives!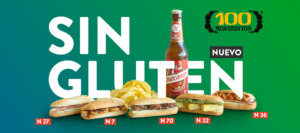 What are the prices?
100 Montaditos dishes start from 1euro! So don't worry you will not spend a lot of money this evening! You can let yourself go when you will choose Wednesday or Sunday when they have Euromania Promotion!!!
When is the best time to go there?
Remember that many people like to eat and drink for a good price, so 100 Montaditos are the crowded place… On the other hand, those places are big and have also tarraces so just check the closest one, probably you will find some last places. Just try to avoid the dinner hours or late evenings if you are coming by a big group that could be impossible to find some free table… Or you need to be a really lucky person ;)!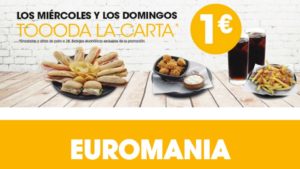 So feel invited to enjoy Tinto and snack there! Take some friends and enjoy it together!
See you in the queue!