1. Zoo & Aquarium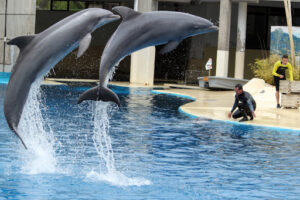 Zoo and Aquarium in Madrid. A fascinating world in which the fauna of the five continents can be seen without leaving the city. Elephants, gorillas, exotic and not-so-exotic birds, koalas, dolphins, sharks, giraffes, kangaroos, bears, and animals found on a farm are all found here as well. All the animals in the world are in Madrid. To get to know them, you only need to go to the Casa de Campo and enter one of the most important zoos in the world.
More than 6,000 animals belonging to more than 500 species are found there: mammals, birds, reptiles, amphibians, fish, and invertebrates. This piece of nature stretches almost 20 hectares and includes a dolphin tank, aquarium, and an aviary, where the best examples of fauna from the five continents are brought together.
Address: ParqueCasa de Campo, s/n28011
Metro: Batán (L10), Casa de Campo (L5, L10)
2. Faunia
It is summer and you get into the biggest European polar Ecosystem.
This nature theme park awakens the senses with four different ecosystems proposal, which recreate the climate characteristics, its flora, and fauna: the farm, the polar ecosystem, the jungle, and poison. The tours last 4 or 5 hours, and during them, you will also find rest areas where you will enjoy the beauty of the park.
Here is also a place for live shows. One of the most popular among the younger children above all is the one that takes place in the 'Teatro del Lago', where you will see the abilities of the mammals trained by its caregivers.
If you still want more, there are more shows like the raptors flight, lectures in different ecosystems, etc.
Faunia also offers camps where the younger children will be able to enjoy a fun and didactic holiday that will turn into unforgettable.
It is winter and you feel the jungle heat. Where? In Madrid, in Faunia.
Faunia
Av. Comunidades, 28
28032- Madrid
3. Atlantis Aquarium Madrid
Located in the into Xanadú commercial and leisure center, just 20 minutes from Madrid, its objective is to raise awareness of the importance of sustainable development through learning about aquatic ecosystems and, hence, promote the conservation of biodiversity and the fight against climate change.
Visitors to the park should follow a 6,000 square meter route made up of 20 aquariums in which around 10,000 specimens of 150 species can be observed, such as the Caretta turtle, the gentoo penguin, the grey shark, tropical fish, corals, and jellyfish. Each ecosystem, from the mangroves to the coral reefs, as well as deep oceans, Antarctica and ending up on a virtual beach, is complemented with diverse interactive tests that provide tips on the sustainable use of water, enable the speed or weight of some marine species to be checked or walk on an interactive beach.
This modern and innovative aquarium presents a unique educational and interactive leisure concept for all ages, joining technology, education, and environmental awareness.
Address:
CallePuerto de Navacerrada, 28939
Centro Comercial Madrid Xanadú, puerta 4
Bus: 528, 534, 539, 541, 545, 546, 547, 548