Madrid is a city that never stops to surprise you. It has an incredible history, amazing food and beautiful architecture. And the best thing about this city is that it is always changing: the best restaurants open, new events are presented, new bars are opened and the city grows more and more every day.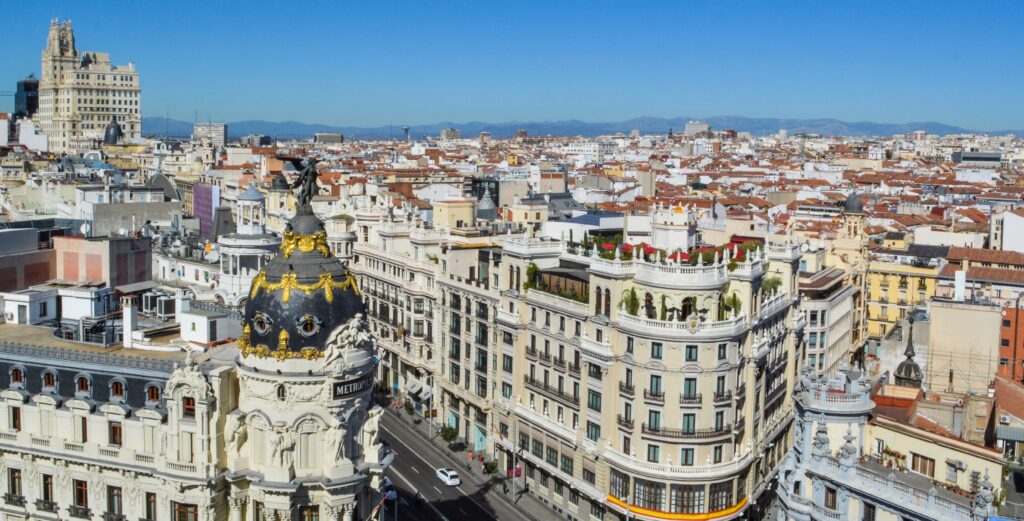 1. Royal Palace
Beautiful home to the Kings of Spain from Charles III to Alfonso XIII, Madrid's Royal Palace takes us on a journey through the history of Spain. Take the opportunity and see inside of it which is an elegant and diverse design. Even though it is no longer the royal family's home, it continues to be their official residence. It's definitely worth to see it!
2. Cathedral de Almudena
Almudena Cathedral is a Catholic church in Madrid, Spain. It is the seat of the Roman Catholic Archdiocese of Madrid. The cathedral was consecrated by Pope John Paul II in 1993. The entrance to this enormous church is free! It's located just in front of Royal Palace so it's a perfect time to visit both of them in the same day!
3. Templo de Debod
Did You know that in the middle of downtown You can find Egyptian Temple? The temple was saved from the rising waters of Lake Nasser in southern Egypt when Egyptian president Gamal Abdel Nasser built the Aswan High Dam. After 1968 it was sent block by block to Spain as a gesture of thanks to Spanish archaeologists in the Unesco team that worked to save the monuments that would otherwise have disappeared forever. Temple looks incredibly beautiful during the evening! Also, You can see from there one of the best views of Madrid city! Go there around 21 and enjoy the view of city lights from a view point near to Templo de Debod!
4. Plaza Mayor
The Plaza Mayor, a grand arcaded square in the center of Madrid it's just 3 minutes from Puerta del Sol (Sol means Sun and it's the main point at Madrid's city map) and 1 minute from Mercado. The symmetrical rectangular square features a uniform architecture. Enjoy the view and city flow by sitting down at any restaurant terrace there just drink a coffee with some churros!
5. Mercado de San Miguel
After Plaza Mayor your nose will guide you directly to this Mercado! This is one of Madrid's oldest and most charmful markets, within the early 20th-century glass walls, the market is an inviting space and it's always alive. It's a great place for tasting Spanish Tapas and great alcohols choice, desserts, olives and much more
6. Puerta del Sol
Puerta del Sol is located in the heart of city center and is Madrid's most famous and central square. You can find there the statue of Spanish King Carlos III, fountain, El Oso Statue and Kilometre Zero Stone Slab. The famous Plaza will be nothing without legendary 20 ton statue of a bear feasting of fruits from a tree! According to the legend during medieval era there were high numbers of bears in the forests so they became the symbol of the city!
7. Gran Via, Metropolis
Gran Via is the most beautiful avenue in the world! Are You fashion lover? If yes You need to go for shopping to Gran Via, not doesn't matter it's worth to see anyway! You need to just walk by and enjoy the magic.
8. Plaza de Cibeles
The monumental Cibeles Fountain has become a Madrid icon. Located in the heart of the city, it shows Cybele, the Greek goddess of fertility and nature holding a sceptre and a key while being pulled by two lions on a chariot. The pull of the wild lions symbolizes the power of nature or of the goddess. One of the most beautiful Spots in Madrid!
9. Atocha Station
You need to see this station! Madrid Atocha is not only the largest railway station in Madrid. It is the primary station serving commuter trains, intercity and regional trains from the south, and the AVE high speed trains from Barcelona, Zaragoza, Seville and Valencia. It has amazing Indoor Botanical Garden that You cannot miss!
10. Retiro Park
One of the largest parks in the city of Madrid and surely the most famous one. You can find there a lot more than a peaceful grassland and amount of diverse trees… You can easily spend there a whole day chilling and exploring Jardines de Cecilio Rodriguez with colorful peacocks and magnificent Cristal Palace with charming cascade! Aside from those places You need to see adorable Casita del Pescador which is tiny house est on a small pond, it looks like a small dollhouse! You cannot forget about impressive Rose Garden with over 4000 blooming roses in various colors, shapes and sizes and Paseo de la Argentina, known as Statue Walk!
Enjoy Madrid and follow next posts with more places to explore! See You around!